As the founder of American History Month, a conservative alternative to Black ( Liberal ) History Month, here's a view on inner city crime you won't hear from Obama; Al Sharpton; the NAACP nor the Congressional Black ( Liberal ) Caucus.   
The Ghetto is my version of Ronald Reagan's " Evil Empire. " Its epic dysfunction stands athwart gains made during the Civil Rights Era and the future.
Like the British Prime minister who promised " Peace In Our Times, " with Adolf Hitler, Black America's liberal leaders seek co-existence with vulgar, violent vandals proudly calling themselves, " niggas;" "goons" and even worse if you can believe it.
Until American Blacks are finally ready to protest; shove; tase and even shoot this threat into submission, we can expect worse.
As more murder; and more offensive behavior and music assault Black culture, my question remains, " Hero or hostage in the Hood- choose?"
Slowly, Black men of good will are counter-attacking against thugs I routinely call, " chocolate Klansmen. " 
Iconoclasts like Seattle's costumed " live action superhero " Phoenix Jones and Atlanta's tactical strip mall manager whose You Tube channel is called " Kick Ass Mall Cop, " inspire people globally.
They occupy civic space similar to civil rights legends who faced great odds without backing down.
Phoenix Jones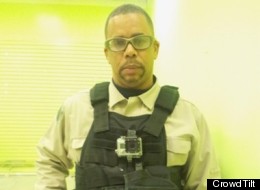 Darien Long aka Kick Ass Mall Cop
Groups like the Detroit 300 united mostly Black male stakeholders in a long over mobilization of men closest to this problem.
Their initial press conference was a wonder to behold and happily shared for your viewing pleasure:
The murder of one of their members disbanded this heroic effort. 
Fortunately, decades old predecessors like Concerned Black Men and Mad Dads still take to inner city streets, patrolling and offering much needed mentoring/mediation programs.  
Some brothers get it. 
Blaming White Republicans while looking the other way over daily disorder and murder rates is cowardly.
My American History Month statement on inner city crime calls for more knights to culturally displace those who call themselves, " niggas " and worse.  
Black men aren't America's only criminals, but Black male criminals are the civil rights issue of my generation.
Cap Black, The Hood Conservative
Donate/Stop Socialist Hate!
" Be your OWN Superhero!"